Dr. Yeh's enthusiasm, energy, and committment to excellence are the building blocks of his Orthodontic practice. With over 11 years of experience he has created thousands of beautiful smiles in the beautiful Northwest. Patients and parents both benefit from his openness, approachability, and his efforts to communicate throughout the duration of Orthodontic treatment. Dr. Yeh also possesses a broad cultural diversity, mastery of three foreign languages, and is a notable expert in technology.
Dr. Yeh recieved a Bachelor of Dental Surgery (B.D.S.) degree from the University of Wales in Great Britain. He pursued his Orthodontic work at the University of Louisville in Kentucky and received an Advanced Orthodontics Training certificate, a Masters of Science in Oral Biology (MS), and a Masters of Science in Public Health (MSPH). He served on the faculty in Louisville and has published in professional journals. Dr. Yeh stays on the cutting-edge of his profession by maintaining memberships in the American Dental Association and the American Association of Orthodontics.
Additionally, Dr. Yeh and his staff compliment each other very well. Several staff members have worked with him since he arrived in this area. The apparent unity of Doctor and staff gives evidence of a well-oiled machine whereby our parents and our patients receive the best of care.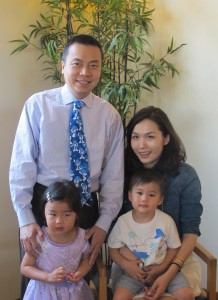 Most notable in this stage of life is his devotion to his family. He enjoys spending most of his nonworking time with his wife and two children, though he does have additional hobbies and interests which include golf, travel, and photography. His generosity toward the community is equally notable.